Feedback here
Shipping not included in price: flat rate in us. list country for shipping estimate.
Everything is OBO. No trades.
Glitter Seraphim Pouch $50
Close Up
x
Open
x
Pockets
Ribbon Lace Short Pants in black $60
Back
x
Lolibrary
Dia Lace OP in blackxwhite $150
Close Up
x
Detail
x
Detachable Sleeves
x
Back
x
Lolibrary
Antique Tartan JSK in blue $130
Close Up
x
Back
x
Lolibrary
Please excuse my silly faces, these pictures were originally sent to my boyfriend so he could see the hat ;P
I FINALLY finished the elf hat I'd been working on since...I think before summer started, haha. It's based on Link's hat from Legend of Zelda, but I ran out of yarn, so it had to be shortened. And because it was so short, I didn't want it just standing straight up, so instead it sits at an angle or just back. It's nifty, and it keeps my ears warm. It's good for cold days. ;3
It seems I've gotten my seasons a bit mixed up. I bought a popsicle tray yesterday, along with some tea. But not just any tea, an apple type. Normally I would think to associate fruity teas with summer, but something about apples seem to autumny to me. Oh well. I made raspberry pops. Quite delicious and refreshing, even if it was a gloomy day out.
Back to tea...I am now in possession of Flash. Hooray. Lots of thanks to my babe for that. So I've got this sudden urge to make an animation that involves tea~ I'm not quite sure how I want to go about it just yet. I know it'll either involve shrinking or someone that's already tiny. It'll be awesome, I just know it.
Oh yeah, and Momo kigu: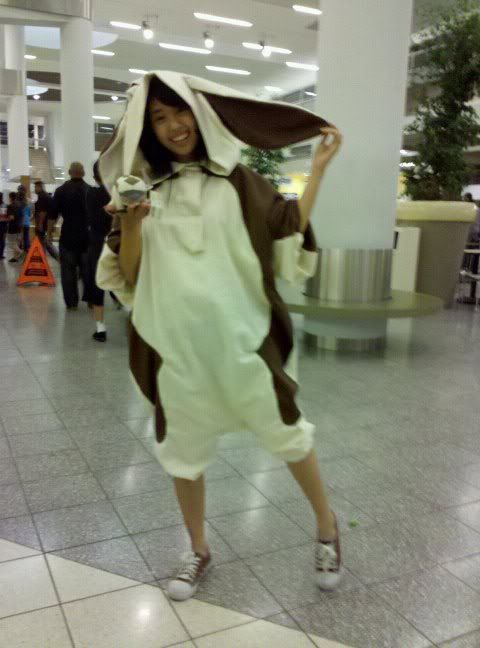 My Meta lucky pack shipped out~~ EEEE! So excited! I hope I get a bunch of stuff. Some people are getting what's pictured, some people are getting more. Personally, I'd love to get the old set in my LP, considering I've never bought one before, so it's not like I'd have multiple like some people. Gosh, I really hope I get a good print...Someone got a super cute ice cream cell phone charm. I hope I get something like that. Man...please have given me some good stuff Meta! I gave up an Innocent World lucky pack for you!! *shakes fist*
Current Location:

Narnia

Current Music:

Lolitawork Libretto - Kanon Wakeshima

Then around 7ish, I gotta head home so I can meet up with Sarah so we can dash and line up with the Twi-tards to watch Eclipse at midnight. Don't judge me, world. My inner highschool girl likes Twilight. And I don't think it's fair for people to tell me they've lost some respect for me just because I read and like the series. It's a guilty pleasure. I never said it was a good series.
After that, we'd retreat to my house, where I'm going to try to convince Sarah to go to Loli-Bingo meet in like...two weeks?
Thankfully Wednesday is a practically free day, so I can work on my Momo kigurumi. And even if it doesn't get finished that day, I still have the day of Thursday before the movie. Take that world. I'm not going to The Last Airbender dressed as Aang, or Toph, or Sokka, or Katara, or any other human character from the series. Yeah, that's right, not even a random Earth Kingdom/Fire Nation/Water Tribe person. How original is that? Momo! YEAH. It's no Appa, but hey, I'm too small for that. But it's okay, Appa will come with me anyway. I'm excited.
I've been watching a lot of movies recently. Karate Kid, Toy Story 3, Eclipse tomorrow, then Airbender a bit after. I think my next major must see movie is Harry Potter. That'll be exciting too.

...Metamorphose...waiting on a Lucky Pack...shipping starts Wednesday at the earliest. So if I'm lucky, my pack will get here in about a week. So awesome...I really hope I get a good print. Like Swan Lake in bordeaux, Candy Star Rabbit in blue, Fancy Playing Cards in brown, or even any colorway of March of the Ducks. I just really don't want something pink. Anything but pink. I don't want to go through the hassle of trying to find someone to trade stuff with. I wonder if there's going to be other things in the pack that weren't pictured. Because a piece of clothing from the old sales that didn't sell would be nice too. Here's hoping I'm super lucky. Although, I think things like that are more likely to pop up in the more expensive pack. I came so close to buying a second pack in the light colorway too since there were 3 in stock the other day...but with some self control I managed not to. Go me.

Oh yeah. Limhwa finally arrived today after...I don't know how many months. He's so cute though. And I guess since the group order never got buyers for the cutie hands and tail, I got to have them. Yay extra hand parts~ And I was wishing I had bought them way back then too. Now the boy needs a face up and proper fitted eyes! He's wearing Luel's old pink ones, but they don't fit and make him look really possessed. It's cute in a creepy way. And he needs a wig too...unlike October, who has magnetic horns to keep technically ill-fitting wigs in place, I can't do the same with Limhwa's horn. Oh well. No rush anyway. Face up first. Goal is to find a fairly new commissioner on DoA who's offering free ones to build a portfolio...and maybe get a new face up for October too while I'm at it.

Officially finished my teacup hat today too. It looks pretty good if I do say so myself. Classy. Although, the way I made the tea tag seems a tad country to me. Either way, it's cute though. I'm excited to wear it to the Bingo meet. Boystyle this time. I don't know if what I'll be wearing falls under Kodona or Ouji...because the colors don't strike me as Dandy? Honestly, sometimes I don't even know what the rules for Dandy is...meh.
This is going to be a really busy week for me, and I didn't even realize it! Tomorrow I'm going to my babe's house, then we're going to go Wal*Mart so I can buy supplies for a Momo kigurumi. And maybe some real fabric scissors. Maybe. Either way, some fabric cutting will be done so I'll have some of the work out of the way.


Hopefully, I'd like to accomplish making the Mana bear before the end of the month to accompany a post I'd like to make on the community about Lolita Idols. I've even made a Mana plushie before, albeit as a Christmas present for my boyfriend years before he became my boyfriend, but I still made it. The little monster is kinda awful though, I used raschel lace...oh ita days...haha.

But anyway, Mana bear. I'm thinking blue velvet, black lace, blue and black roses [fabric, plastic, or ribbon]. Maybe even try embroidering the Moitie logo on it's chest Beanie Baby style. I don't know. Maybe I'll make two. One to be Mana, all dressed up and the other to more Moitie and romantic/classy. Yeah...
There's a post on the EGL community about brand plushies, and Moi Meme Moitie came into the discussion. Something about how if a person filled their buyer card they'd get a free teddy bear. Somehow a Mana/Moitie themed teddy idea was brought up. I think that idea is absolutely brilliant. I may not be skilled enough or have the resources to make a tea cup hat when that discussion came around, but I think I can handle making a teddy bear.
Current Location:

Narnia

Current Mood:

creative